MSI Afterburner:
MSI's Afterburner is the renowned and the most popular GPU overclocking utility around. The utility includes a simplistic design. It features real-time overclocking, and supports both Nvidia and AMD. The utility features Core voltage, Power limit, Core clock, memory clock and fan speed adjustment. A separate panel for monitoring is also present, it includes temperature monitoring, fan RPM, GPU usage, Core clock, Memory clock, Shader clock and memory usage monitoring. Around five custom overclocking profiles can be setup, and you can also change the utility's theme from a variety of different colors. Like ASUS's GPU Tweak, in addition, it allows you to change between 2D/3D modes. They are constantly updating this software with beta versions, and its the software I personally use.
In addition, the utility also contains MSI's Kombuster, which ensures if your card is stable at different overclocks. It also shows if unstable clocks or more temperature are causing artifacts to appear. The utility also allows to capture in-game screenshots and video capture in a number of formats.
The latest beta can be found here: http://download1.msi.com/files/downloads/uti_exe/vga/MSIAfterburnerSetup300Beta18.zip
Here is the changelog:
MSI Afterburner Version 2.3.1 (2013/1/23)
 Now MSI Afterburner optionally allows you to detect VRM defaults without rebooting the PC
Added voltage control support for UEFI GOP BIOS for MSI R7970 Lightning  Boost Edition series graphics cards
Now MSI Afterburner displays the list of assigned global hotkeys in "i" window
Now MSI Afterburner properties window is resizable to provide compatibility with low-resolution desktops (less than 1280×1024 with 100% DPI)
Added new "Enable hardware control and monitoring" option to compatibility properties. This option can be useful if you are using MSI Afterburner for framerate monitoring and videocapture only and don't want to risk suddenly overclocking your PC
Added NCT7511Y thermal sensors support to provide compatibility with future MSI graphics cards
Added workaround for possible VID rounding issues for all supported voltage generator models
Updated Italian localization
MSI On-Screen Display server has been upgraded to version 4.5.0. New version gives you the following improvements:
1. Improved audio mixer architecture provides better extendibility and better audio tracks synchronization when mixing multiple audio tracks in one
2. Push-To-Talk audio recording support. Now you can assign a hotkey for each audio stream and record unmuted audio only when the hotkey is pressed
3. Updated German localization
EVGA Precision X:
EVGA Precision X is a superb overclocking utility by EVGA, a well respected name in graphics card manufacturing. EVGA's Precision X tool only works with Nvidia GeForce GPU's only. Even so, it offers excellent overclocking tools that work with almost all Nvidia GeForce cards. The Precision X tools brings along support for GPU voltage and overvoltage, absent in the previous versions. Basic features include GPU core, shader, memory OC, fan speed control, pixel clock overclocking (GeForce GTX TITAN / 700 / 600), power target  (GeForce GTX TITAN / 700 / 600) and temperature target control. In addition, it contains your usual monitoring features you would expect like temperature, fan speed and much more.
Another neat feature is support for a Logitech keyboard with LCD display monitoring, in-Game GPU monitoring support, capability to capture in-game screenshots in multiple formats, support for wireless overclocking using the custom Android app and multi-language support. The program also sports the capability to change  different skins, you can even make your personal custom skin. I would say the Precision X has the most features of them all.
It can be downloaded here: EVGA Precision X download
ASUS GPU Tweak: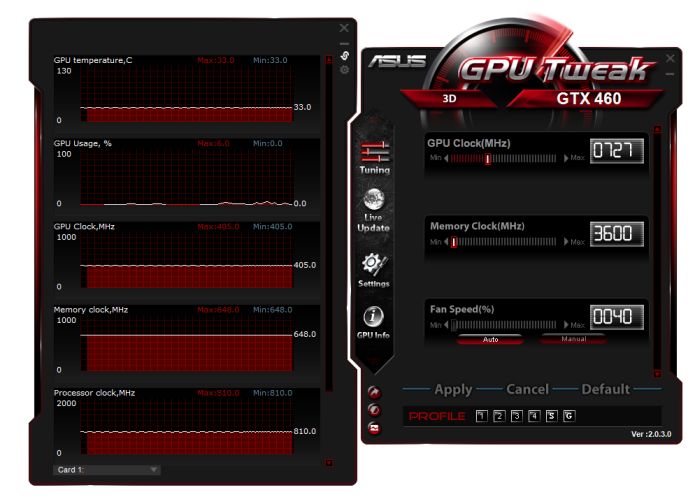 ASUS is a well known vendor among the computer enthusiasts, their graphics cards are equally popular. ASUS also has their own proprietary GPU overclocking utility, 'ASUS GPU Tweak'. Just like their ROG lineup, the GPU Tweak also includes a similar red and black color scheme. It features a simplistic design with your regular sliders and another panel for monitoring which includes basic temperature monitoring fan speeds and as such things. GPU Tweak lets you add a number of additional things such as memory temperature, power temperature, motherboard board temperature, GPU usage, VID usage, front side bus usage, GPU voltage, ram voltage, PEX_VDD, PCIE12V voltage, GPU fan RPM, GPU Fan_2 RPM, core clock speed , memory clock speed, cpu speed.
GPU Tweak allows for establishing of up to four custom profiles. 'S' and 'G' buttons enable reverting to manufacturer set default settings, while the latter enables a slightly higher clock speed on the GPU. The utility allows the user to improve between 2D/3D mode depending on your needs. You can even set it to a fixed/locked mode. Also present is area that looks much like the gpu-z software you might be familiar with. You can activate it by clicking the knowledge button. Additionally GPU Tweak also lets you update your BIOS and GPU driver automatically. I quite sure this specific feature only works on asus branded products.
Download it here: Asus GPU tweak
Gigabyte OC Guru II
Now let me first say that I might be REALLY biased when it comes to Gigabytes products. In my mind they make the best quality computer components in the world! Gigabyte's OC Guru II has been around for many years, the overclocking tool was consistently behind the other guys in terms of functionality, features and stability, but with the launch of OC Guru II, things are looking up. Gigabyte has tremendously improved their overclocking utility. It's easy to use and includes a very smooth and easy to understand design. The individual page design is great and features all the necessary things needed. The utility allows for control of clock speed, memory voltage, fan speeds etc. Gigabyte does provide many features , but also locks some too. For instance, only memory voltage could be controlled, while core voltage is locked and determined by Gigabyte to be set for the safest possible value. As much as I am a Gigabyte fan , in this case MSI afterburner gets my vote because in Afterburner all features are changeable.
To create things easier the OC GURU II is combined with Adjust area and Information area. The Adjust area has 3 pages: OC page, Gaming page and Green page, as the information area has all important monitoring capabilities.
Download here: Gigabyte OC Guru II download
Zotac Firestorm:
Zotac released their 'Firestorm' GPU overclocking utility a short ago. This simple utility features a very easy to read design and all the basic overclocking options you would expect such as Core, ram, Shader Clocks, Fan speed control and monotoring and Volts control. This utility also features custom overclocking profiles,a  fail-safe safety net just in the case of a failed overclock, a power limit control, temp limiter control module  and Nvidia SLI overclocking capability. Firestorm does not have side-panel for monitoring like the others, instead the Zotac Firestorm has individual tabs for different settings. Props to Zotac for taking time to make a simple to use tweaking utility for owners of Zotac GeForce graphics.  The only downside is it wont work on ATI cards , just Nvidia based gpus. If your just starting out in the tweaking/overclocking arena, this would be a great place to start. Some of the more hardcore tweaking utilities might be a bit much for the noobie.
Download here: Zotac firestorm download
SAPPHIRE TriXX:
Trixx are not just for kids. Sapphire has their own handy overclocking utility, that only works with AMD graphics cards. The 'TriXX' utility, as Sapphire likes to call it offeres the basic need of every overclocker, even though it is even though it doesn't offer all the bells and whistles of its competitors. You can make changes to the fan speeds, core voltages and gpu clock speeds. You can create to four custom profiles, certain overclocking settings also guarantee maximum performance from your AMD based card. For instance, the utility will maximize the speed in  gaming mode, but will reduce clock speeds and fan speed to optimal level when watching videos.
The utility has a very simple interface , it's divided in to multiple tabs, each with it's own set of functions. TriXX can also create a log file for future analysis, and the user can save the current VGA BIOS, in case they want to flash their card. TriXX even offers a neat sidebar gadget option, which is unique in it's own right however it doesn't make up for the some of the features absent in the utility. Like many others, TriXX can also be customized via custom skins.
Main Features
SAPPHIRE TriXX is the optimal overclocking utility for your AMD RADEON™ graphics card. Features include:
Overclock your AMD RADEON™ based graphics card

GPU Core
GPU Voltage
Video Card Memory

Save your Favorite Overclock Settings with up to 4 Profiles.
Adjust your Graphic Card's Fan Settings with Automatic, Fixed or Custom Fan Speeds.
Information Tab with all you need to know about your Graphic Card including GPU, Interface, Memory, Driver Version, BIOS Version, Clocks, Shaders and more…
Multi-GPU support (CrossFireX)
Windows Sidebar Gadget option
Download link: Saphire Trixx download
Gainward EXPERTOOL:

Popular manufacturer Gainward also provide their very own overclocking utility exclusive to Nvidia GeForce GPU's. The 'Expertool' has your entire basic overclocking options including core clock, GPU voltages, fans speeds, power target and memory clock. The utility can save  up to 5 custom profiles and features a quite 'different' layout.
It looks kind of like a  car speedometer, with dials showing core clock and memory clock. It has all the necessary monitoring functions which can be accessed through the status tab, including GPU temperature and fan speeds. The data tab is self-explanatory and includes all necessary info about the GPU. Gainward's Expertool may get the job done, but it still requires a lot more development to compete against the others.
EXPERTool™- Gainward's award winning
EXPERTool™ tuning utility for customized performance enhancements and efficient desktop management.
ExperTool v4.2 (For AMD/ATi GPU)
ExperTool v9.0(For nVidia GPU and Driver 259.10 or newer)
Download Here: Gainward Expertool download
AMD OverDrive:
Contrary to popular belief, AMD has it's own overclocking. Since it say's, the utility is especially designed for AMD GPU's and features overclocking. Suffice to state, it fulfills one's basic need for overclocking, but if you're gonna go 'geek, all over it, then we'll suggest otherwise. The utility features Core/Memory clock adjustments along with a few options for over voltages and the option to set auto or manual fan speed.  It includes your usual monitoring stuff, and features an easy-to-use tabbed design.
The utility also contains a stability test, benchmark and AMD's Smart Profiles. OverDrive is also the easiest way to disable Cool and Quiet downclocking technology when you're searching for consistent performance or high clockspeed stability.
AMD OverDrive gives you complete control of your system. Personalize your experience in real time with easy-to-use screens designed for novice to expert users. AMD OverDrive allows user to tune parameters to help system stability, optimize performance, and control cooling/acoustic characteristics
AMD OverDrive gives you complete get a handle on of your system. Personalize your experience instantly with easy-to-use screens designed for novice to expert users. AMD OverDrive allows user to tune parameters to help system stability, optimize performance, and control cooling/acoustic traits
AMD released the newest revision of their popular OverDrive overclock and monitoring software.
The award-winning AMD OverDrive™ gives you complete get a handle on of your system. Personalize your experience instantly with easy-to-use screens designed for novice to expert users. AMD OverDrive™ allows user to tune parameters to help system stability, optimize performance, and control cooling/acoustic traits.
Maximum control for massive headroom
Personalize your experience with state-of-the-art real-time overclocking*. Used by world record setting overclockers around the world, AMD OverDrive™ provides you with unprecedented get a handle on over your processor, memory and chipset to push the performance envelope further than before.
AMD Memory Profiles
Achieve optimum high speed DDR3 performance with pre-tuned memory profiles. Open up bandwidth and overclock your memory for much more performance.
AMD OverDrive™ utility is compatible with the following operating systems:
Windows 7 (32 or 64-bit)
Windows Vista (32 or 64bit)
Windows XP (32 or 64bit)
AMD CPU and a compatible AMD Chipset motherboard are required for installing and using AMD OverDrive™ utility.
AMD OverDrive™ utility supports the following chipset models:
AMD Hudson-D3
AMD 990FX
AMD 990X
AMD 970
AMD 890FX
AMD 890GX
AMD 890G
AMD 790FX
AMD 790GX
AMD 790X
AMD 785G
AMD 780G
AMD 770
AMD OverDrive™ utility just isn't compatible with the following chipset models:
AMD 780V
AMD 760G
AMD 740G
Previous AMD Chipset models (e. g. 690G or 580X) or non-AMD Chipsets
Certain options that come with AMD OverDrive™ utility require a motherboard with compatible BIOS version and may perhaps not be around on all supported hardware configurations.
For newer high end amd cards such as the 7000 series , if you have windows 7/8 64 bit, here is the latest driver that includes overdrive: Latest Catalyst as on 2/6/14 download for windows 7/8 64bit
This concludes my reviews, please like us to support us, and post comments and questions.